Customizable Material Solutions
Above all else, we are an engineering firm that can take your technical requirements for sheaves and translate them into cost effective solutions to meet or exceed the performance required of your application. Selection of the proper sheave material plays an important role in ensuring strength, durability, and overall performance in your application. Sheaves Inc. has been the number one source for the wire-rope industry, designing and providing custom engineered wire rope sheaves that meet your specific needs and rigors of your application. Trust our engineering expertise, and let us suggest a suitable material in your next challenging application.
Considerations when choosing a Sheave Material
Sheave Materials Available through Esheaves.com
Esheaves.com offers custom solutions engineered to meet the exact requirements of your application. From the strength and durability of a nylon sheave, to the rapid shipping and stock availability of Q sheaves, we will help you meet any challenge. If you don't see the customizable options you need, we'll engineer a complete, original solution just for you! 
Carbon Steel/Stainless Steel
1045 Steel: Machined from Round bar, hardened up to 35-40 Rockwell Hardness
A572 GR50 Steel: Machined from Round bar, hardened up to 35-40 Rockwell Hardness
Stainless Steel: Less Hardened than carbon steel; increased corrosion resistance
Cast Nylon
Cast nylon sheaves are superior to aluminum or steel sheaves for wire rope load applications

Service Life: exceptional durability and performance; significantly improves wire rope life in operation
Corrosion Protection: impervious to rust and salt water corrosion, no paint or coating needed
Reduced Weight: one-seventh the weight of steel sheaves of the same dimensions, one-half the weight of aluminum sheaves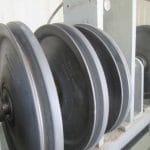 Aluminum
Light weight option for high speed applications. Resistant to chemicals, temperature, and corrosion. Durable in wire and cable processing applications


SX Polymer
A new thermoset material that has very good wear and improved strength characteristics. Prmary material used in BOMCO Replacement Sheaves.
Color: Off White Temperature range: -60°F to 250°F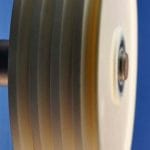 Gar - Dur
Our custom process sheaves are most often machined from Gar-Dur, the densest, toughest thermoplastic today. GAR-DUR properties, such as toughness and abrasion resistance with light weight, make it ideal for high speed sheaves processing wire and cable.
Color: Normally yellow but also available in black for UV resistance. Temperature range: -460°F to 200°F
Other UHMW
Manufacturing methods limit GAR-DUR material to 23″ OD and 2″ OAW. For sheaves beyond those dimensions we use virgin UHMW cut from stress-relieved sheets.
Color: Off White. Temperature range: -220°F to 180°F
High Density Polyethylene (HDPE)
HDPE has similar properties to UHMW but lower properties and prices. Ideal for tubing, hose, synthetic rope, and similar materials that have less demanding wear and load requirements. Color: Off White. Temperature range: -180°F to 160°F
Ceram-P(TM) Filled UHMW
Ceram-P is ceramic filled UHMW recommended for high load and severe sliding abrasion. It is a shatter resistant alternative to sintered ceramic but substantially heavier and more expensive than UHMW.
Color: Lime Green. Temperature range: -60°F to 220°F
Nylon (Polyamide)
A self lubricating, general purpose nylon that offers outstanding wear and abrasion resistance, chemical resistance and low friction. Higher cost, lower impact resistance, higher compressive strength than UHMW.
Color: Off White. Temperature range: -60°F to 190°F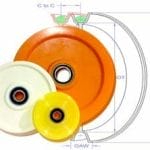 Other materials for custom sheaves include:
Teflon
Phenolic
Delrin™ (Acetal)
MoS2 Filled Nylon
Composites
Know the sheave material you need? Visit the eSheaves shop to select from a variety of sizes, materials, and bearing types in stock and ready to ship.   
Thousands of items are in stock and ready to ship. Search by product type, material,  part number, or other attrubite and find your sheaves today.
Save hours worth of engineering and take advantage of our extensive knowledge, experience and resources. Talk to our experienced engineers today.
Know your specifications?
Complete our online Quote Request and our engineers will review and respond with a formal quotation. Get a response in 24 hours or less